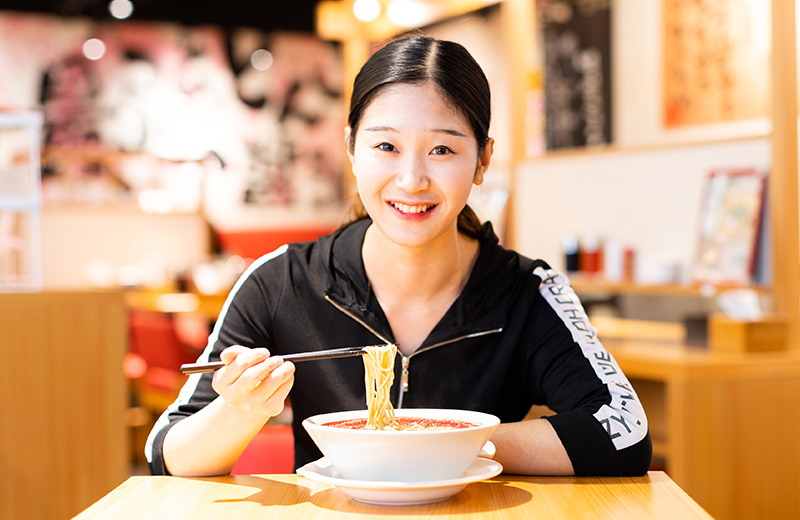 Among so many kinds of soups, Tonkotsu shoyu (pork bone and soy sauce) soup is very special to me.
Since I was an international student in Japan, I've been a big fan of Japanese ramen. Of course we have a Chinese-style ramen which is loved by the young and the old, but it is totally different from Japanese ramen. There is a growing number of ramen stores, so it is not difficult to find one in Shanghai. When it comes to finding one where you can enjoy the same quality of taste as that you enjoy in Japan, however, it may be very difficult. Most of them seem to target Chinese customers. Although there are many kinds of soups such as miso, shio(salt), shoyu(soy sauce) and tonkotsu(pork bone), Bariuma's tonkotsu shoyu(pork bone and soy sauce) is still unusual. So I would say it is very special.
There is a desire for Japanese taste of dishes and service in Shanghai as well.
With more Chinese people traveling to Japan, more and more people are getting to know how good the real Japanese ramen is. Those people are often disappointed when they eat ramen back in China, saying "Oh, this tastes different from the one we had in Japan." Especially in Shanghai, with lots of Japanese people living here, there should be many who want to enjoy a real Japanese taste.
This is also the case with customer service. More and more people want Japanese style customer service in Japanese ramen stores. It's not only the case with ramen stores but also with other stores like coffee stores. Store staff are starting to talk to customers with a smile on their face, which was unusual in China before. A new style of customer service is becoming more common.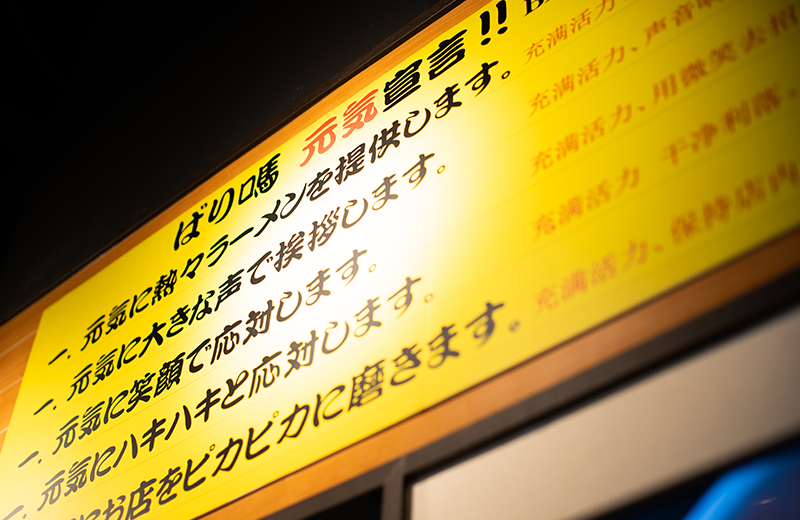 In order to serve a delicious bowl of ramen, we have to make our employees happy first.
I shared the philosophy with Withlink. This is the prime reason why I chose "Bariuma" among other franchise chains. Of course, in restaurant industry, food matters but people matter as well. When I talked with the CEO of Withlink, I was attracted to his personality.
I still remember him saying, "In order for the business to prosper, we have to make both our customers and our employees happy." It means that we have to make our employees happy first to offer a good ramen and cordial service.
Make active customer service take root and attract more customers
With a support of Withlink, we started a staff training program 2 weeks before opening the store. Our Chinese staff didn't speak Japanese nor had any idea about Japanese-style customer service. But they learned them by practicing repeatedly. Although they used to speak with a very small voice at the beginning, they can speak confidently now. I think an active Japanese style customer service is taking root.
Our staff are also working very hard to learn about the service in details such as not to take note on the table when taking an order. Japanese style customer service is gaining a favorable reputation among our customers. So I hope it takes root to attract customers.
Sticking to the basics in a rapidly changing city
We have just opened our first store and we are planning to open more stores. We would like to establish our role model. With continuous development, Shanghai is changing rapidly. Trends are rapidly changing because people are able to access overseas information easily and they like trying new products. That's why it is important that we stick to the basics: delicious ramen and cordial customer service. Withlink always supports us in developing new products and managing the store. So we hope that we share various information with them and grow side by side with them.