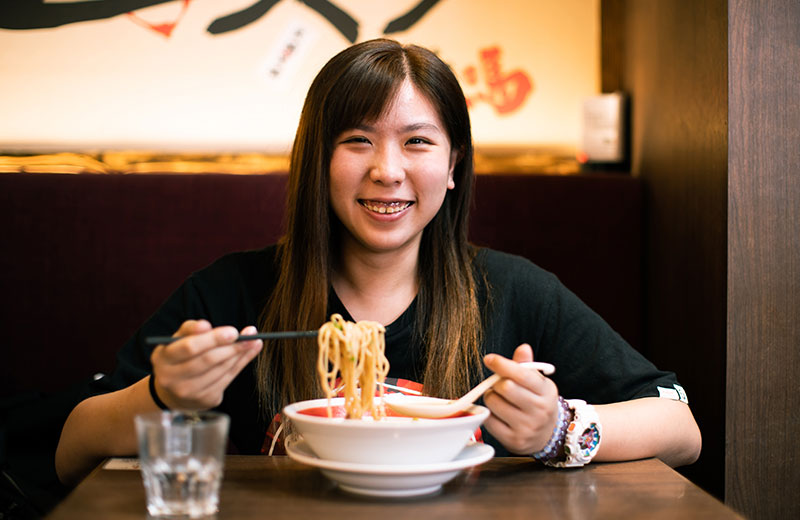 We have expanded our business by opening as many as 7 stores since we opened our first store in 2015.
Future Bright Limited was established in Macau and now operating more than 40 restaurants in Macau. We develop various restaurants also in Hong Kong, China and Taiwan. I am responsible for store operation and management of "Bariuma" and "Fuunmaru" in Hong Kong.
Since we opened our first Bariuma store in Hong Kong, we have been opening new ones. In 2017, we opened "Fuunmaru" as the brand's first overseas store. We now have 7 stores affiliated with Withlink in Shenzhen China, Macau and Taiwan.
Our good reputation spread through word of mouth. There is even a waiting line at the entrance.
As there are so many restaurants in Hong Kong, you can enjoy a lot of food culture from various countries. Of course there are also many ramen stores because people love ramen as one of typical Japanese food. There should be about 20 brands of ramen only in Hong Kong.
Among them, "Bariuma" is the only Hiroshima origin ramen. We attract people with products having good balance of rich soup, homemade noodles, boiled egg and char siu. Reputation about addicting taste of our products has spread through word of mouth. Now our store is so popular that there is even a line of waiting people at the entrance.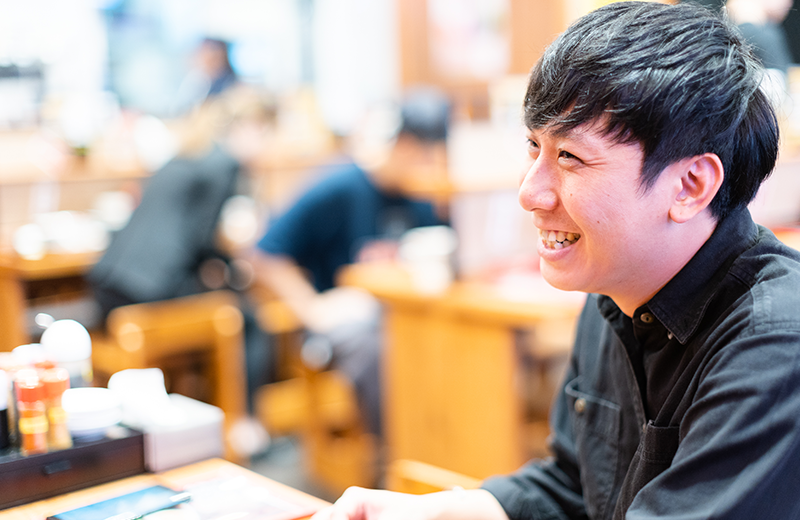 Fuunmaru's dipping noodles which are attracting attention of Chinese and Taiwanese travelers.
Withlink has Bariuma's sister brand called "Fuunmaru" that features the other type of operation. This is another reason why we wanted to join them besides good taste of Bariuma ramen. Although dipping noodles are not so popular as ramen, they've been getting widely known among people in Hong Kong especially for the last 2 years.
They are similar to ramen, but how you eat them is different from how you eat ramen. Their sticky texture is totally new. As ours in Hong Kong is the only overseas Fuunmaru store(except for those in Japan), a lot of Chinese and Taiwanese tourists visit us. So we think that the brand has a huge potential.
Attracting customers with new products and genuine support from the head office
There are always new restaurants opening in Hong Kong, so our customers are sensitive to the trends. In an effort to continuously attract customers, Withlink always develop new products such as season limited menu. They commit themselves to learning overseas customers' trend of taste.
When opening a new store, a supervisor of Withlink comes from Japan to train store staff and help operate the store smoothly. I would say a generous support is one of good things about Withlink.
Another 30 stores in a couple of years to come
In Hong Kong, there is such a popular ramen chain that almost everybody knows. We would like to forge our brand "Bariuma" to make it as popular as to excel that ramen chain.
We aim to open another 30 stores not only in Hong Kong, but in Shenzhen China, Macau, and Taiwan.
I will be happy if the brand becomes so popular that "Bariuma" first comes to your mind when you think of a ramen store in Hong Kong.